A Shipping Container For Every Purpose
Did you know that around 90% of the world's cargo is moved by ships? It's no surprise that to accommodate such a vast amount of goods, there are many different types of shipping containers in circulation, each used for a different purpose.
Read below to find out what the 11 most common types of shipping containers are. And solutions to weigh or lift them on and off the chassis.
A general purpose container is also known as a "dry container". These shipping containers are fully enclosed, protected from the elements and weather proof, with a rigid roof, side walls and floor. Dry containers are by far the most common type of container, and as such are used to load most types of normal cargo. In addition, general purpose containers can have adaptations such as liner bags or flexi-tanks for shipping certain types of liquid bulk cargo or dry bulk cargo.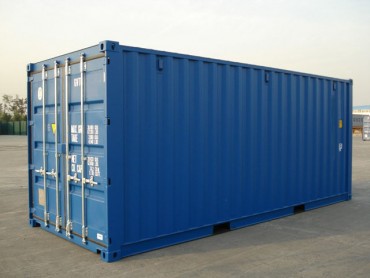 This simple storage container has collapsible sides that can be folded to make a flat rack. The end walls are stable enough to allow cargo securing, so they are ideal for shipping goods that are oversized, such as heavy machinery, vehicles on tracks, big reels and construction materials. Some 40′ flat rack shipping containers are suitable to carry as much as 45 metric tons of cargo!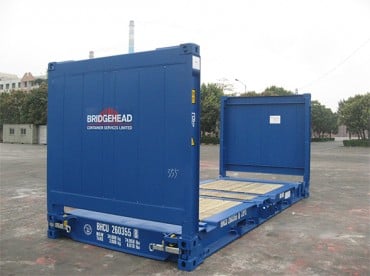 An open top shipping container has a convertible top that can be completely removed. This is suitable for cargo that is over-height and cannot be easily loaded through the door, such as tall machinery or other heavy / bulky finished products whose handling and loading can only be performed with a crane or rolling bridge. Open top containers have lashing rings installed to the upper and lower side rails and corner posts to secure cargo, and are available in 20' and 40'.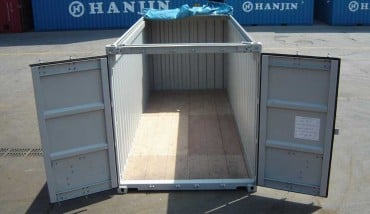 With doors on both ends of the shipping container, this container type is also known as a "tunnel container". Double door containers are extremely helpful for quickly loading and unloading goods, and they make an even wider room for goods such as steel and iron. Both sets of doors have the same locking assembling and weather tight seals to keep cargo protected from the elements.
High cube shipping containers are similar in structure to general purpose containers, but taller by about 1 foot. These containers come in sizes 40′ and sometimes 45′, and are used in cases where a slightly bigger volume capacity is required. Most high cube containers have a recess in the floor at the front end to centre the container on so-called gooseneck chassis, which allows it to lie lower and be of taller construction.
Open side containers are very similar to regular, general purpose shipping containers, the only difference being that the doors can open completely on the side too. This feature provides much wider room and access, which makes loading and unloading materials easy. Open side shipping containers generally come in 20′ and 40′, and they provide adequate room for extra large items that can't fit through the regular doors.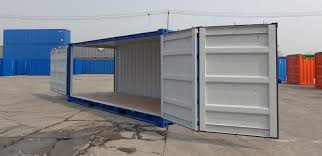 An ISO shipping container is used for the shipment of temperature sensitive, perishable cargo such as meats, fruits and vegetables. This container type relies on external power to keep the temperature regulated. Reefers generally come in 20' and 40, and are commonly made from a weathering steel known as 'Cor-ten' steel.
Like the ISO Reefer container, an insulated or thermal container has a regulated temperature control that allows them to withstand a higher temperature. They are equipped with an electrical compliance (mechanical compressor) to cool or heat the air within the container. Insulated containers are typically constructed of a vacuum flask, similar to a "thermos" bottle. As such, they are most suitable for long distance transportation of products such as foods, pharmaceuticals, organs, blood, biological materials and chemicals.
Half-height shipping containers are designed for transporting bulk cargo that is heavy and dense. These are good for transporting goods such as coal and stones, so they are perfect for use in the mining industry. Half height containers have a low centre of gravity so they can better handle heavier loads than taller containers, making them versatile and they're robust enough to withstand the rough industrial environment. Half-height containers are also easy for loading and unloading.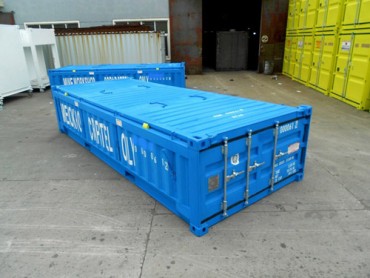 Tank containers, or tankers, are made of strong steel or other anti-corrosive materials for the transportation and long-life protection of liquid materials. A tank container must be at least 80% full to prevent dangerous surging of liquids in transit, but it must also not be over 95% full or there would not be sufficient room for thermal expansion.
Swap bodies are exchangeable containers used for road and rail. They are commonly used in Europe. Swap bodies have a convertible top, which makes them suitable for shipping a range of goods. Because swap bodies do not have upper corner fittings and are not stackable, they are restricted to land-based transportation only.
CONCLUSION
Now you know about the most common types of shipping containers, you're going to need to know how to lift and weigh them.
WEIGHING
If you need verified weights for SOLAS VGM compliance, as long as the container has a standard corner casting (which all of these do!) you can weigh using certified BISON C-Jacks.
LIFTING
Or, if you need to pack a container in your factory, warehouse lot or even in a remote location, you can use a BISON C-Lift as a low-cost, lightweight, portable solution to lift and ground the container from a truck trailer.